Royal Society for Public Health Training for Gypsy and Traveller Communities
We are an accredited Royal Society for Public Health (RSPH) Training Centre and deliver training to Gypsy and Traveller communities on health improvement and behaviour change.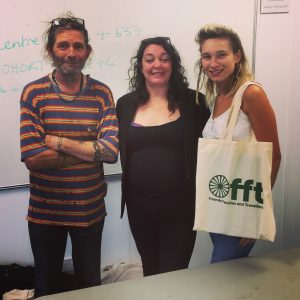 The aim of our training is to develop and embed ways of working that enable Gypsy and Traveller communities to actively participate in improving their own and their community's health.
We deliver the following training courses:
RSPH Level 1 Award in Health Awareness,
RSPH Level 2 Award in Understanding Health Improvement and Understanding Behaviour Change
We are currently developing and piloting an RSPH Young Health Champions qualification with a group of young Irish Travellers in Brighton.
Over 45 Gypsy and Traveller community members have taken part in our training to date and have received an accredited certificate, which is equivalent to a GCSE qualification. For many participants, this is their first formal qualification. As a result of taking part in the training, two participants are now attending college, two have volunteered with Friends, Families and Travellers on an ongoing basis and two participants have gained employment.

I was nervous at first, but I was able to settle in with the other people who were on the course. I learnt so much, I sat the exam and passed it! I gave up smoking after I did the course and I got mum to as well. I talk to other Travellers now and encourage them to quit.
Romany Gypsy Participant in Level 2 RSPH Qualification in Understanding Behaviour Change
In recognition of our work, we were runners up in the 'Community Health Development Award' at the RSPH Health and Wellbeing Awards 2019.