Sign up to our newsletter!
If you want to be kept up to date the latest information and events affecting Gypsies and Travellers in the UK, sign up to our monthly newsletter.
A key part of our work is to campaign for change. We need to achieve change in the law, change in the awareness of organisations and individuals, and change in the attitudes and prejudices within society in general. Our newsletter is our key way of engaging with people from all backgrounds in the UK so that we can work to encounter prejudice and discrimination. If you would like to work actively on behalf of Gypsies and Travellers in your area we can give you support.
Donate
We depend on the generous contributions of our members and funders to continue the vital services we provide.
If you would like to donate money to Friends, Families and Travellers, you can simply text FFGT12 followed by the amount you wish to donate to 70070 or donate online via BigGive.
Volunteer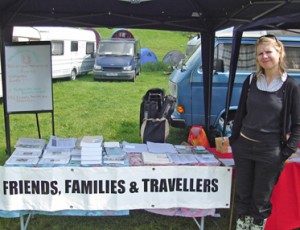 Volunteering is a great way to make a change, gain experience, learn new skills, meet new people and share your experiences.
If you would like to volunteer with us, please complete our Volunteer Application Form.
To find out more, give us a call on 01273 234777, e-mail us at emma@gypsy-traveller.org.
Please check our Vacancies page for current paid and voluntary positions.
Work for us
We have a dedicated staff team working out of our friendly Brighton offices. Please check our Vacancies page for current paid positions.
Remember us in your will
It is always best to seek professional advice from a solicitor if you are writing or updating your will.  If you wish to leave a legacy gift to us, please give your solicitor the following information:
Charity name: Friends Families and Travellers
Registered charity number: 1112326
Address: Friends, Families and Travellers, Community Base, 113 Queens Road, Brighton, East Sussex, BN1 3XG

Letting us know about your legacy gift
We understand that your will is a private document. However, if you do leave us a legacy please consider letting us know about this as it helps our future planning. It also means we can express our thanks to you and discuss any wishes you may have about your legacy. Obviously, we would treat any discussions confidentially.