Crystal's Vardo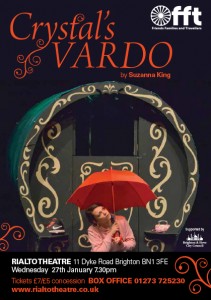 To mark Holocaust Memorial Day, 27 January, Friends, Families and Travellers are presenting a performance 'Crystal's Vardo' at The Rialto Theatre in Brighton on Wednesday 27th January at 7.30pm.
Follow the link to book tickets https://thelittleboxoffice.com/rialto/
There will also be an exhibition of paintings at The Rialto Theatre by Hungarian artist Erika Lakatos
[divider_flat]
Photo Exhibition at Moulescoomb Library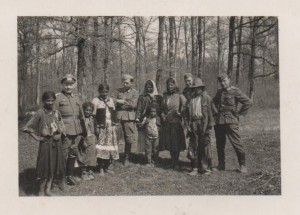 There will also be an exhibition of photographic images at Moulescoomb Library, The Highway, Moulsecoomb, Brighton BN2 4PA. See website for opening times http://www.brighton-hove.gov.uk/content/leisure-and-libraries/libraries/library-opening-times-and-contact-details
The exhibition runs from Monday 25th January until Saturday 6th February
The majority of the images in this exhibition have come from the personal albums of German soldiers, and have been bought over the years by Robert Dawson in the hope that they will raise the awareness of the Gypsies' plight in WW2. It is little known that, under the Nazi regime, some European countries lost their entire population of Gypsies. In some, the soldiers are photographed laughing with the adults, holding their children and watching the women dance, all the while knowing the Gypsies were already condemned. Others show the roundup of Gypsies in various countries.
Robert Dawson has deposited the originals at The National Holocaust Museum, Newark.