Don't get me wrong; I am used to remote working in challenging circumstances. In my previous job working with travelling communities in Bath, I often worked on my canal boat, where being moored in the wilds of Wiltshire meant no internet signal. I would sometimes have to abandon ship and drive to the nearest café to use the internet; only to run out of battery on the laptop and not have anywhere there to charge it up.
I returned to work as health policy officer at Friends Families and Travellers (FFT) in August, after another wonderful summer working in the Orkney Islands. I have lived in my van for the past two summers and my trailer in the winter. Last year when I started at FFT I was able to move out of my van immediately and into my trailer on a private site near Brighton for the winter. This year I am working remotely 4 days a week and I needed to be based in East Anglia as I have also started my own business. I have a lovely private site to pitch my trailer on.
This autumn, having to work from my camper van has been more of a challenge. I often have to take part in important phone calls. Also, the weather during October took a turn for the worse, which didn't help!
The other day I was on a conference call on my mobile phone, sitting on the bed in the back of my van. All was going well until I heard raindrops on the roof. As the intensity of the rainfall increased I strained to hear what people on the call were saying. Suddenly the rain became torrential and I couldn't hear anything that was being said at all! Luckily there is a mute button on the phone so others weren't subject to the downpour but I lost track of some of the conversation.
I have moved back into my trailer now, so I have much more space, and a proper big wood burner. Initially I had to stay temporarily on a nearby farm and I only had electric during the day if the farm workshop here was being used. As soon as I heard the dulcet tones of the tractor generator fire up I ran around the trailer plugging everything in! I plied the mechanic with cups of tea and filled up his pot noodle at lunch time with hot water to keep him happy and as a thank you for letting me use the hook up.
When he didn't work I decamped back into the van halfway through the day and plugged into the power there to top up the work laptop until the leisure batteries ran down; not possible on days with no sun!
I am lucky that I am able to work from home and that the organisation I work for obviously understands all the issues I am faced with. I work much quicker at home but I do still enjoy being in the office once a month and the meetings I attend in London. Happily I am now fully installed on my winter pitch with electric and all facilities laid on, and its beautiful here! They say it'll be a hard winter so I may get snowed in, but at least I will still be able to work!
About the author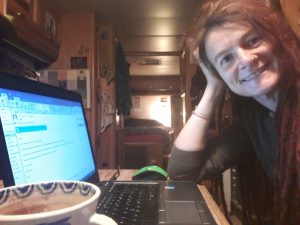 Sam Worrall is a New Traveller who is sometimes also a liveaboard boater. She is a member of the health policy team at Friends, Families and Travellers. Friends, Families and Travellers is a national charity seeking to end racism and discrimination against Gypsies, Travellers and Roma, whatever their ethnicity, culture or background, whether settled or mobile, and to protect the right to pursue a nomadic way of life.