There are a whole range of factors that will determine whether an eviction, and eviction notices are lawful and whether anything can be done to stop or delay it. Every circumstance is different and the specifics of each case will determine what can or cannot be done.
Contact us or the Traveller Advice Team as soon as you receive notice of an eviction. Contact details are listed below.
If you leave it until the night before the police or bailiffs are due to turn up to contact someone, there is very little that can be done.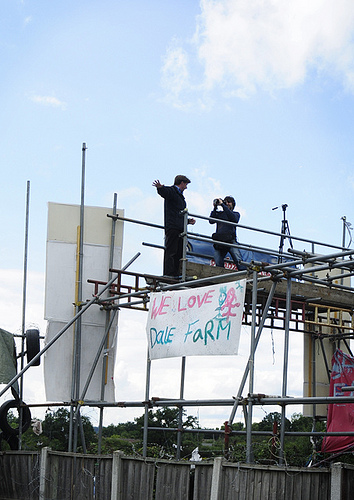 There are four main types of evictions. These are:
Evictions by the Police and Local Authority from public or private land;
Evictions from private land by private landowner;
Evictions by planning authorities under planning law; and
Evictions from local authority and private rented sites.
The first thing you need to know in any eviction is:
What kind of land or whose land are you being evicted from? Is it private or public land, highway, greenlane, etc.
Who exactly is evicting you? Is it a private landowner, a local authority, the police, planning authority, etc.
Which powers/laws exactly are being used to evict you? Is it a Section 61 eviction, Section 62a, Section 77, Part 55, etc
The answers to these three questions are essential information and anyone you contact for help will need to know this before they will be able to do anything. As soon as you have gathered this information, call someone straight away.
How to get help
Traveller Advice Team:
Advice Line: 0121 685 8677
Contact hours: 9.00am – 5.00pm, Monday to Friday (with exception of Bank Holidays).
Out of hours emergency mobile: 07768 316 755
FFT:
Advice Line: 01273 234 777
Monday to Friday 10.00am-4.30pm, Monday to Friday (with exception of Bank Holidays).
It is always worth double checking that the person / body trying to evict you:
actually owns or has license over the all of the land in question;
is using the correct powers and has followed the correct legal procedure to evict you; and
that the land for which the possession order is being sought is that and only that which is being trespassed.
Further resources:
Find a list of Traveller friendly solicitors in our Services Directory.
Read advice from Marc Willers QC on Evictions from unauthorised encampments.
Legally correct Feb 2015