Having a resident's group can put you in a stronger position to negotiate with your landlord, improve your site and get services to visit your site.
Here are some resources and information about Gypsy and Traveller Residents' Groups including:
Notes and presentations from a Residents' Groups Seminar
A research paper which draws on the experiences of various different types of Gypsy and Traveller run Residents' Groups.
A toolkit to help you set up and run a Residents' Group for your site.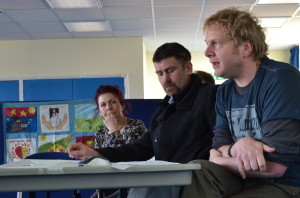 Gypsy and Traveller Residents' Group Seminar – February 2012
In February 2012, we hosted a seminar on Gypsy and Traveller Site Residents' Groups.
In total, 45 attendees took part. These included residents of Gypsy and Traveller sites as well as members of support agencies. A number of speakers made presentations about setting up and running Residents' Groups and to engage in lively discussions. The event proved a useful opportunity for some members of the Gypsy and Traveller communities to share their views on what was valuable to them with support agencies. Many participants noted that legal information and policy shared were useful for those wanting to start Residents' Groups and for those who already had started a Residents' Group.
You can see the presentations and some of the discussion points below:
Stable Way Residents Association
Discussion points:
The large size of the Stable Way site (100 people) and being in the Westway Development Trust area around it were helpful to the Association's success as agencies took the site more seriously and the Development Trust provided access to funding.
Running a raffle at meetings helped to get people to come.
Phil Regan, Support Worker, emphasised the importance of:
– Being able to get legal advice, advocacy and support;
– Adopting a community development approach;
– Gaining local authority support and officer involvement; and
– Ensuring the participation and mentoring of Gypsy and Traveller residents.
Soon after the February seminar, Stable Way Residents Association were featured in the Guardian newspaper. Read the article: Pioneering Traveller community stands proud against cuts.
View the presentation:
Eleanor Street Residents' Group
Marion Mahoney shared practical advice on learning outcomes after the Eleanor Street site was threatened with demolition by Cross-Rail. Marion shared how setting up a Residents' Group helped to empower site residents.
Discussions points:
Taking the power back is important – organising meetings at a place residents choose.
Gaining experience on being a representative when not all the site is behind you.
Learning when to step back when tempers are high.
Representing all family groups – staying in touch with everyone.
Not everybody will join in – some people will have a stake in keeping it chaotic and the strength of a Residents' Group's will threaten this.
Don't have a meeting when "trouble is going on".
Tenants Participation Advisory Service
Unfortunately, Jane Eyles of TPAS was unable to attend but you can view her useful presentation below:
First Steps
Sarah Mann of Friends, Families and Travellers discussed our recent support for residents at three sites, which arose from our casework with individual residents.
Discussion points:
The importance of building some small successes quickly as Residents were easily discouraged at first.
Outside support was very helpful as the Local Authority site managers were more willing to listen to another agency to start with.
Small and rural sites had less support around them to draw on and might not have as much leverage with statutory agencies.
List of Resources
If you are interested in finding out more, we have a wealth of resources available on the topic of Accommodation in our Policy and Publications section.