If you live in a caravan or trailer remember to follow basic fire safety precautions:
Fit a smoke detector in your caravan – smoke alarms are the first line of defence against fire. They are designed to detect fire in its early stages and can give you those precious few moments to get out safely.
Find out about firefighting arrangements on the site and also where the nearest telephone is
Keep a torch handy for emergencies – don't use a lit candle
Take care when cooking – don't leave fat pans unattended
Keep matches and lighters out of the reach of children
If you smoke, use suitable metal ashtrays – never smoke in bed
Keep the caravan ventilated and don't block up air vents – it could be fatal
Before going to bed or leaving the caravan, turn off all appliances
Fit smoke alarms with a hush button. Check them once a month and change them once a year
Buy a Carbon Monoxide indicator from the DIY store (some local fire brigades provide them for free)
Check all gas fittings. Use arrester values on gas bottles and make sure your home is adequately ventilated.
Get a registered Corgi gas fitter to fit and regularly service any gas appliances.
If there's a fire:
Fires in caravans spread very quickly – get everyone out straight away and stay out
Call the Fire and Rescue Service (dial 999) and give the exact location
Give a map reference to the Fire and Rescue Service if possible – otherwise, give a landmark such as a farm or pub, to help them to locate you.
LPG Cylinders (Bottled Gas)
The LP Gas Association gives advice on getting rid of dangerous empty gas cylinders and other gas safety questions: www.uklpg.org . Always treat LPG gas cylinders with care :
Change cylinders in open air.
Make sure the appliance controls and cylinder valve are turned off before you change the cylinder.
If you think there might be a gas leak in the cylinder connection or pipes – extinguish all naked flames, brush soapy water over all the joints and then look for bubbles. Tighten (but do not over tighten) leaky joints.
Always ensure LPG regulator is compatible with your appliances.
Unless designed to be left on, ensure all appliances are turned off when not in use.
In the event of fire :
Get everyone to safety.
Turn off gas cylinders if it is safe to do so.
Raise the alarm and call the Fire Service on 999.
Do not take risks.
Get out, call the Fire Service out, stay out.
Carbon Monoxide:
Carbon Monoxide is an odourless gas which can leak from badly maintained and unserviced gas appliances, especially gas heaters. One sign of a potentially deadly appliance is a build-up of soot in the flue, and flames that burn yellow/orange instead of blue.
Gary Flemming, a Fire Officer with Essex Fire and Rescue Services which attended a fatal fire at Dale Farm, Basildon, says one simple life-saver is the smoke alarm:
"Deaths may have been prevented if a smoke alarm had been fitted in the trailer".
Fire Brigades give free fire safety advice wherever you live – this includes unauthorised and illegal sites.
Find a locally registered Corgi gas engineer on the Corgi Gas Safety website, from your local council or in the Yellow Pages. They will inspect your appliances, give advice and issue you with a certificate of safety that is legally binding. Don't rely on cowboy fitters.
This text originally appeared in the Traveller Times, Summer 2005
Further Resources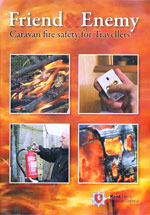 Friend and Enemy: Caravan fire safety for Travellers.
Joe Jones, a member of the Travelling community talks to Kent Fire and Rescue Service about fire safety in trailers, both on the roadside and permanent sites. This DVD shows how to keep fire as our friend as well as what happens when it gets out of control and becomes an enemy. Produced by the Kent Fire and Rescue Service, Open Productions and the Canterbury Gypsy Support Group. Please contact fft@gypsy-traveller.org for a free copy (plus P&P).
.
Fire Safety for Gypsies and Travellers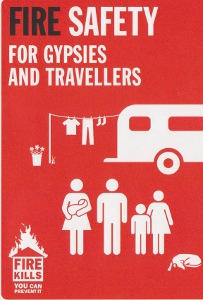 Did you know?
– On average 1,400 fires per year occur in caravans
– More than five fires a day are started by candles
– Every three days someone dies from a fire caused by a cigarette.
Learn more about fire safety from the Fire Kills: you can prevent it booklet, free to download from the Fire Kills website. Feel free to download the leaflet and share it with friends and family.