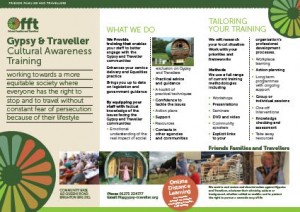 We provide training that:
Enables your staff to better engage with the Gypsy and Traveller communities
Enhances your service delivery and equalities practice
"I got a lot from that day… if only to realize my own prejudices that I wasn't even aware that I had!!!"
By equipping your staff with:
Factual knowledge of the issues facing the Gypsy and Traveller communities
Emotional understanding of the real impact of social exclusion on Gypsy and Traveller communities
Explicit links to your organisation's professional development processes
Practical advice and guidance
A toolkit of practical techniques
Confidence to tackle the issues
Action plans
Support
Resources
Contacts in other agencies and communities
"Action planning – good discussion and focused on what we can do to progress"
Tailoring your training:
We will research your local situation
Work with your priorities and frameworks
"As a result of the training I now stick up for Gypsies & Travellers because I have more knowledge"
Methods: We use a full range of current training methodologies including:
Workshops
Presentations
Seminars
DVD and video
Community speakers
Workplace learning
Group or individual sessions
Long term programmes with ongoing support
One off interventions
Knowledge checking and assessment
Action planning
Take away resources
Explicit links to your organization's professional development processes.
"I have learned a lot about how best to support clients"
Online Training
We recommend that all organisations requesting in-house training enrol in our online learning first, therefore enabling all participants to have a good base of knowledge so that in-house sessions can go deeper and better address any issues or questions specific to your organisation.
Find out more about our online training.
Why Friends, Families and Travellers?"
We are the only national body that works with all of the travelling communities, regardless of ethnicity or background. We have a long and successful history of direct service support to the Gypsy and Traveller communities, a strong research and evidence base, giving us an unparalleled understanding of key issues and access to a wide range of speakers from the communities. We are a significant player in national policy debates, working with and advising government, parliament, NHS, police, local authorities and many other national and regional bodies.
We can work with you to create high quality training interventions to ensure that our training genuinely helps you to reach your goals, fits your budget and provides excellent value for money.
To discuss your needs please email training@gypsy-traveller.org.
Download our Training Leaflet.
Case studies
The British Red Cross
Training from FFT during a staff development day, allowed the British Red Cross SE Region team to learn about the very poor health outcomes of the Gypsy and Traveller communities. With FFT, the Red Cross developed a programme to outreach to Gypsies and Travellers with the aim of building health resilience through first aid training – meeting the Red Cross's charitable aims. The Red Cross are now developing culturally relevant training materials, running training with Gypsy Groups and planning to run First Aid demonstrations at Traveller horse fairs.
HMP Maidstone
After attending training with FFT, the Diversity Officer at HMP Maidstone worked with prisoners from Gypsy and Traveller backgrounds to produce a magnificent display to celebrate GRT History Month. The prisoners also cooked traditional dishes to share with others.
The prisoners from Gypsy and Traveller communities were delighted to discover that their culture had been recognised. There were many positive comments made from prisoners, staff and visitors who acknowledged that they had not previously explored this culture. They now have a Gypsy and Traveller prisoner representative on their Race Equality Action Team and are planning a future event.