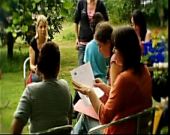 Volunteering is a great way to gain experience, learn new skills, meet new people, share your experiences and get your expenses paid for.
If you are interested in volunteering for FFT or would like to find out more about what volunteering might involve give us a call on 01273 234777, e-mail us at emma@gypsy-traveller.org  or pop into the Brighton office for a chat.
Training Opportunities for Volunteers:
Office Volunteer Wanted
We are looking for a volunteer to help in the FFT office with answering the telephone helpline, client post, administrative tasks, and basic casework.  If this is something you would be interested in please fill in

this application form

, and email to Emma Nuttall:

emma@gypsy-traveller.org

or if you'd like to discuss further please ring Emma on 01273 234 006
Media, Research & Campaigning
1. FFT needs to raise its media profile- FFT needs to release regular press releases about our casework and campaigning. Volunteer required who can (learn to) write press releases based on information from casework and events at FFT.
2. Build up the FFT blog- The blog on the website has not been used since 2010. We want to give the blog to different members of the Travelling community to write for a month each, to record a part of their live and some of the challenges they face. This will be a great way of directly connecting the work that FFT does with the reality of being a Traveller in the UK. Some could be younger, some older, over the course of the year you would end up with about 12 stories from the community. If there is a cross reference with FFT all the better. Volunteer required to identify volunteers who would do this over the next year, supporting them in this process as necessary.
3. Research funding directories that list grant holders and identify grants that should be applied for especially those which will support the activities of the Young People's coordinator. Volunteer required to spend 2 hours a week researching suitable grants to apply for. Essential volunteer activity.
4. FFT needs to know what is happening in other organisations. Volunteer to read relevant titles eg Travellers Times, and look at other organisations websites and blogs, and report back to their line manager on anything of interest via email.
5. FFT's website needs to be refreshed more frequently. Volunteer required to write text for the website. Use web based research to inform this activity
6. FFT's newsletter is produced quarterly. The newsletter is an essential part of FFT's marketing strategy. The newsletter needs a variety of articles that are outward facing in nature. In other words if you don't know anything about FFT it should make you want to join, and if you have joined it should make you glad you are a member! Volunteer to collect, edit and compile suitable material to be formatted in to newsletter.
Download our Volunteer form to apply for media roles. Fill in the form and email to: emma@gypsy-traveller.org.
Health
Health Trainers Volunteers Training
Supporting and Promoting Good Health as a Volunteer. FFT are working in partnership with Brighton and Hove Health trainers, NHS Brighton and Hove and other voluntary sector groups. We are offering training in understanding and supporting health improvements,also understanding key/main lifestyle issues and local health resources/services it's a 3 day training.
What You Will Gain From Attending This Course?
You will develop your knowledge about local health and wellbeing services, enabling you to support people in your community to improve their health.
You will gain a recognized qualification from the Royal Society for Public Health (the RSPH Level 2 understanding health improvements) on completion of day 2
You will receive a NHS Brighton and Hove Health Trainers Volunteer Certificate on completion of all 3 days
How Will This Help The People You Support as a Volunteer?
Health is important to everyone's quality of life, for people to make lifestyle changes to improve their health, knowing where to go to get started isn't always easy.
You will have this knowledge to support people into taking the right steps to improving their health.