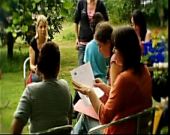 We are looking for a volunteer to support the advice and information team at FFT.
.
The role would include applying for grants for individuals in need, filling in forms for clients, assisting clients in applying for benefits and calling benefits agencies, filling and organising paperwork, and answering the telephone. The role would receive training and is an excellent opportunity to learn some of the skills needed to work in an advice agency.
.
If you are interested please email Emma Nuttall, Advice and Policy Manager at emma@gypsy-traveller.org outlining your experience and skills.